Nessa, RN - November 27, 2022
8-Week NCLEX Study Plan: Tips for Success
The last step before obtaining your nursing license and starting the career you've been working towards is the NCLEX exam. There's a lot of pressure riding on the outcome of the exam, so it's completely normal to feel anxious about it. However, if you prepare for the NCLEX exam properly, you have nothing to worry about. With a practical NCLEX study plan, you'll be right on your way to passing the NCLEX exam in no time.

Luckily you don't need to start from scratch when it comes to building an NCLEX study plan. I've already been through it, so I am happy to share the 8-Week NCLEX Study Plan that helped me pass the exam, down to a sample calendar that you can adapt to your study needs.

My Tried and Tested 8-Week NCLEX Study Plan:
Week 1: Create a Study Schedule
It might seem silly to schedule in time to plan, but setting a realistic foundation for your NCLEX study plan is key to sticking with it. There are three main things to consider when creating your plan:
The date your exam is scheduled: This will give you the timeframe to build your study schedule around. (Aiming for 6-8 weeks after graduation allows ample time to prepare)

Amount of time available for studying: Be realistic, you don't want to burn yourself out before the exam

Your learning style: Tailoring your study schedule to your learning preferences will make it easier to retain the information that you're learning. (i.e. videos vs flashcards, or podcasts vs reading)
Week 2: Take Practice Tests to Identify Your Weaknesses and Strengths
Before you break into the hardcore studying, first take a practice test to identify where your strong and weak areas are. This way you know what to prioritize first in your study schedule.
Identify the concepts that you struggle with

Identify the areas that you have a solid understanding of
Week 3: Review Weak Areas First
The next step in the NCLEX study plan is to start with what you struggle with. Based on your practice test you'll know where your weak areas are. Start with those first, for example, if you struggle the most with maternity, review maternity content and do maternity practice questions before moving on to other topics.
Study the areas that you struggle with first

Continue until you're comfortable explaining these topics to someone without notes
Weeks 4-6: Continue Content Review and Do Practice Questions
In weeks 4-6, you'll want to focus on the topics that show up the most often on the test, starting with your weak areas. You should commit to doing practice questions daily to refine your judgment skills and reinforce all the topics in your mind.
Continue reviewing other high-yield content

Try to do at least 50-100 practice questions a day

Leave the content you are confident in till the end i.e. if your strength is Fundamentals, then save that for last
Weeks 7-8: Practice Questions and Relax
The last two weeks of the NCLEX study plan are the home stretch, at this point, you should have a solid understanding of all the topics. Focus on daily practice questions. The day before the exam give your mind a break so it's fresh for the exam. Resist the urge to cram in another study session, rather do something relaxing and get a good night of sleep.
Focus on practice questions, at least 50-100 a day

Read all of the rationales, even if you got it correct (this is how you learn and recognize different strategies when answering NCLEX style questions)

Take breaks to avoid burnout

Do not study the day before your exam. Reserve that time to relax and rejuvenate.
Here is an example of my 8-week NCLEX study schedule:
I focused on Fundamentals and Maternity first as those are my weakest areas.
For the last 4 weeks, I focused more on practice questions and reading rationales.
Download a free NCLEX study schedule template to create your own study plan:
DOWNLOAD NCLEX STUDY SCHEDULE TEMPLATE
Related Posts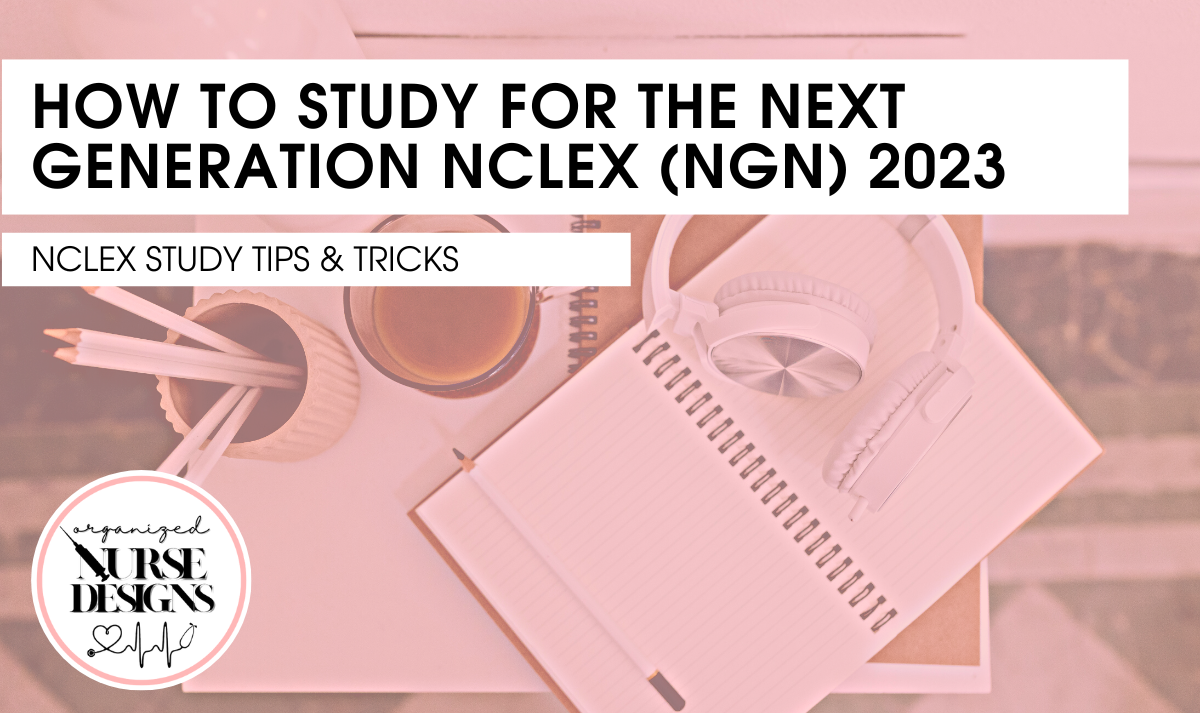 These changes on the Next Generation NCLEX are intended to better reflect the skills and knowledge needed for nursing practice and to ensure that nurses are prepared to provide safe and effective care to patients.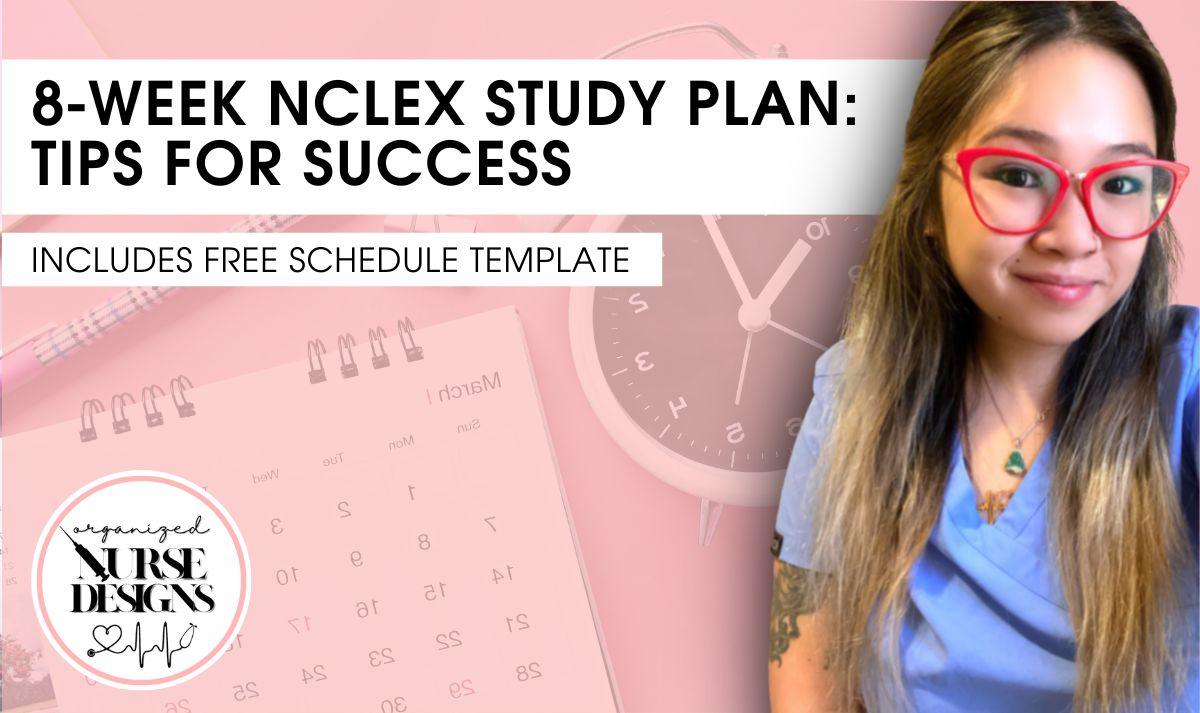 When soon-to-be nurses think about taking the NCLEX exam, they often feel a great deal of anxiety. Since this is the final step before obtaining your license and starting your nursing career, it is expected that many new graduates invest a lot of time studying for it. However, with the right approach and an effective NCLEX study plan, you'll be on your way to passing the NCLEX exam in no time!
Secure Checkout With
Copyright © 2023 OrganizedNurseDesigns. All Rights Reserved.